Employee wellness programs globally, have become a staple in many corporations as a way to attract top talent, keep them happy and productive, and decrease employee turnover. More so in Greece, where the financial situation has led to increased pressure while reducing employee benefits overall. But the key to having a successful corporate wellness program is by encouraging overall wellbeing while still keeping it fun. If you can't get your team engaged then your wellness program ideas will quickly lose steam. So make your initiatives fun, try new ideas and see what your team values the most.
1. PROVIDE YOUR EMPLOYEES WITH HEALTHY OFFICE SNACKS
Healthy snacks aid in weight control, improve mood, and boost energy, making it a no brainer to provide for your office. If you're already providing snacks to your employees, consider making the switch to healthier alternatives like bars and balanced mixes of nuts with dried fruits.
Ask WorkWell to give you some Ideas and Directions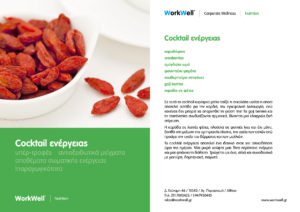 2. CREATE A HEALTHY OFFICE COOKBOOK
Ask employees to share their favorite healthy recipes. Compile the best ones into a collection and share around the office via a downloadable document in email or a simple printed booklet.
3. MONTHLY HEALTHY VOLUNTEER
Create a sign-up sheet with 2 columns (name and what you're bringing) and post it to the fridge in the main break room for people to list what they're bringing.
4. BRING IN A CHEF TO TEACH PEOPLE AN EASY COOKING RECIPE
Hire a chef who specializes in healthy food to come in for a cooking demonstration.
5. OFFER ALMOND MILK IN ADDITION TO REGULAR CREAMERS AND MILK
Be mindful of the vegans and dairy intolerant people
6. DEBUNK THE COMMON HEALTHY EATING MYTHS
There's a lot of marketing around the food industry that tricks people into thinking certain foods or diets are healthy, when in fact they are not. Authority Nutrition does a great job of addressing some of the most common nutrition mistakes that you can share with your team.
7. PUBLISH A WORKPLACE WELLNESS NEWSLETTER HIGHLIGHTING THE BEST FITNESS, NUTRITION, AND EDUCATIONAL CONTENT FROM AROUND THE WEB – or simply ask WorkWell to do that for you!
Setup separate google alerts for "fitness", "nutrition" and "wellness education" and select "only the best results". Compile the best articles each week or month into one email and send out for your employees to enjoy.
8. STOP OFFERING LOW QUALITY SNACKS
If you offer your team snacks or meals with no nutritional value, make the switch to healthier alternatives. At the very least offer a majority of healthy items and just a few traditional junk food items.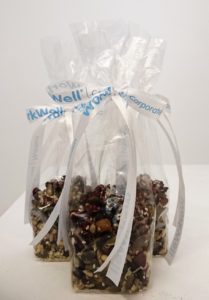 9. CREATE STANDING DESKS
Varidesk offers adjustable-height standing desks that allow users to easily switch between standing and sitting while working.
10. VISIT A LOCAL FARMER'S MARKET FOR LUNCH
Offer to pay for all organic produce employees decide to purchase.
11. ORDER IN LUNCH FOR THE OFFICE, ESPECIALLY DURING CRUNCH TIME ON BIG PROJECTS
Reward your team for putting in the extra hours by ordering in lunch for them.
12. SWAP THE OLD JUNK FOOD VENDING MACHINES WITH HEALTHIER OPTIONS
Companies are replacing their old vending machines with new, healthier options like bars that come these days with a great variety of options and the cost is similar.
13. SHOW YOUR EMPLOYEES HOW THEY CAN IMPROVE THEIR HEALTH
Bring in a specialist who offers biometric screenings and health assessments, and more importantly, can give people a roadmap to improved health.
14. HOLD A HEALTH FAIR
Invite local vendors and companies to your office for a day to talk about nutrition and wellness initiatives. You should have no problem at all persuading local businesses to attend, as it's a great way for them to promote their service.
15. SURVEY YOUR EMPLOYEES TO FIND OUT WHAT IS WORKING AND WHAT IS NOT
Don't waste time and energy on corporate wellness initiatives that employees don't find engaging or beneficial. Use HR Survey tools or Google Forms to create a survey to collect feedback from employees.
16. REWARD FINANCIALLY SMOKERS TO QUIT
In a study conducted by The University of Pennsylvania School of Medicine and Wharton School, employees who were financially incentivized to quit smoking were 3 times more successful at ditching the habit than non-incentivized employees.
17. POST TIPS FOR RELIEVING BACK PAIN AND EYE STRAIN
Sitting at a desk staring at a computer for hours is the fast track to back pain and eye strain. Email this infographic for better posture and this one for eye strain to your people.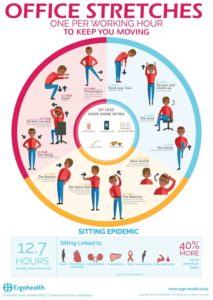 Ask WorkWell to deliver an Office Yoga & Ergonomics Seminar to your People